Gisteren was het Valentijns dag! Ik ben aardig verwend: een knuffelbeer van mijn dochter en een roos, een kaart en een doosje met chocola van mijn Valentijn... Mijn dochter kreeg het zelfde, dus raad maar wie onze Valentijn was, haha. Mijn nieuwe kit is een Valentijnskit geïnspireerd op het liedje 'Only You', maar dan met een knipoog. Owly You is nu in
mijn shop
, de eerste week met korting.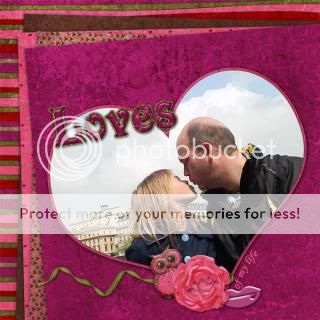 Yesterday it was Valentine's Day! I got really spoiled: my daughter gave me a teddy bear and I got a rose, a card and a heart shaped box with chocolates from my Valentine. My daughter got the same, so guess who our Valentine was, hehe! My newest release is a Valentine's kit inspired on the song 'Only You', but with a wink. Owly You is now in
my shop
, on sale for the first week.
To go with the kit, I also made
flairs, brads and stickers
. Of course it's available as
a bundle
too. :D And don't forget, it's all on sale for the first week!